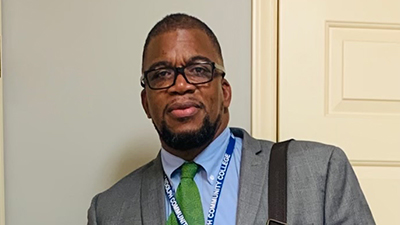 The past two years were unprecedented for United Way and for our community as we begin the steady but sure road back to our new normal. We have stood the test of time and once again we are stepping forward to announce our 2022 Campaign Chair.
This year's campaign for the United Way will be led by Quinton Louris, Small Business Director at Randolph Community College.
Quinton has been a community advocate and United Way supporter since 2015. His work brought him back to the community by working for a local nonprofit, and he now holds the position of Small Business Director for Randolph Community College. Mr. Louris stated, "United Way has afforded me the opportunity to truly see the difference nonprofits make in the lives of our fellow residents of the county, and I look forward to a great campaign."
"Investments in the United Way help seventeen different agencies aid with health, income, and educational needs right here in our own community. With Quinton at the helm and his passion and commitment to community service, I have no doubt that he will lead a successful campaign for Randolph County this year," said Elizabeth Mitchell, United Way of Randolph County Chief Professional Officer.
The 2022 Campaign will kick off in September. We invite our local businesses and individuals to support the United Way in helping to improve lives through the caring power of the community. To learn more about how to donate or for more information on running a campaign in your business, visit the United Way of Randolph County's website at www.uwrandolph.org or contact Elizabeth Mitchell at (336) 625-4207.